Las Minas Puerto Flamenco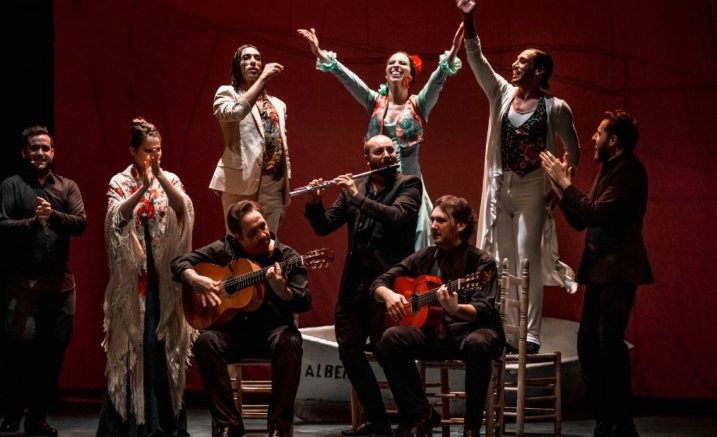 Details
Las Minas Puerto Flamenco is a musical show in which eleven artists show the talents that have made them worthy of winning the Cante de las Minas prizes.
This is not just another Flamenco show but rather a unique, non-stop event. The singing is accompanied by guitars that are in turn accompanied by dancing and percussion, Flamenco flutes, Saxophone and cajons.
A show full of sensitivity and imagery, journey through the history of Flamenco that has passed through ports, interacting with music from across the world: habaneras, colombianas, rondeñas, vidalitas, milongas and guajiras, which fuse with the Flamenco soleás, tanguillos, alegrías and bulerías.
Presented by Las Minas World Wide Tour, S.L.
ARTISTS
Yolanda Osuna Flamenco Dancer
Amador Rojas Flamenco Dancer
Eduardo Guerrero Flamenco Dancer
José Tomas Jimenez Flamenco Guitarist
Javier Ibáñez Flamenco Guitarist
Gema Gimenez Flamenco Singer
Bernardo Miranda Flamenco Singer
Manuel Soto Flamenco Singer
Manuel Planton Percussionnist
Oscar de Manuel Flamenco Flutist
Juan Diego Saez Flamenco Saxophonist
Booking Information
Thursday 5 October 2017 7.30pm
Duration: 2 hours (no interval)
Tickets
Standard $89 ($79 Concession)
A Transaction Fee between $5.50 and $8 applies to orders made online and by phone. A Delivery Fee of up to $5.50 may also apply.
Do you have a promo code?
Click 'Book Tickets' below to enter your promo code on the following page.
Did you know?
Melbourne Recital Centre Members enjoy waived transaction fees and save 10% on tickets to selected concerts? Click here for more information.