Red Bull Music Academy Presents CARL CRAIG Synthesizer Ensemble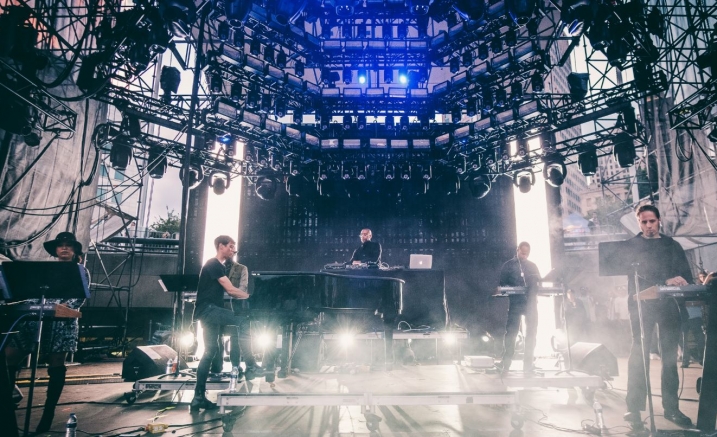 Details
Detroit's techno visionary live in concert with a symphony of synthesizers
World-renowned, Grammy-nominated artist Carl Craig brings his world acclaimed Synthesizer Ensemble to Melbourne for the first time. Detroit's Craig remains a central figure in music's contemporary catalogue, and runs the 26-year-old label Planet E – on which he released his Versus album in April this year. The Synthesizer Ensemble delivers a symphonic adaptation of Craig's techno catalogue, utilising an array of keyboards and synthesizers.
A creative entrepreneur and world-renowned icon, Craig remains ahead of his league, continually challenging electronic music's future through unrivalled productions and collaborations. First premiering in Paris in 2008, Craig joined with the Les Siècles orchestra (conducted by François-Xavier Roth), multi-instrumentalist techno mastermind Moritz von Oswald, and Francesco Tristano, who arranged and orchestrated his tracks for a symphonic live performance. The original filmed recording of the show has more than 1 million views, acclaim from BBC Radio's Gilles Peterson and has spawned a full-length album, Versus – released via Craig's legendary Detroit imprint Planet E and InFiné. A unique combination of electronic and classical composition, Versus is a progressive eight-track collection of techno adapted for orchestra.
Carl Craig will be joined by Kelvin Sholar and fellow musicians Jon Dixon, Greg Burk, Christoph Adams and Jarrod Chase, to perform compositions from the release – live with a symphony of synthesizers, lighting the picturesque surrounds of Melbourne's Recital Centre on September 2. Craig will relive some of his biggest hits to date in symphonic form. The Synthesizer Ensemble will be an extremely rare Melbourne spectacle that's not to be missed.
Presented by Red Bull Music Academy
ARTISTS
Carl Craig
Kelvin Sholar band leader/piano
Jon Dixon keys
Greg Burk keys
Christoph Adams keys
Booking Information
Saturday 2 September 2017 8pm
Duration: 1 hour 30 mins (no interval)
Tickets
Standard $69
A Transaction Fee between $5.50 and $8 applies to orders made online and by phone. A Delivery Fee of up to $5.50 may also apply.
Do you have a promo code?
Click 'Book Tickets' below to enter your promo code on the following page.
Did you know?
Melbourne Recital Centre Members enjoy waived transaction fees and save 10% on tickets to selected concerts? Click here for more information.