Anja & Zlatna
When the Roads Meet: Balkan Crossings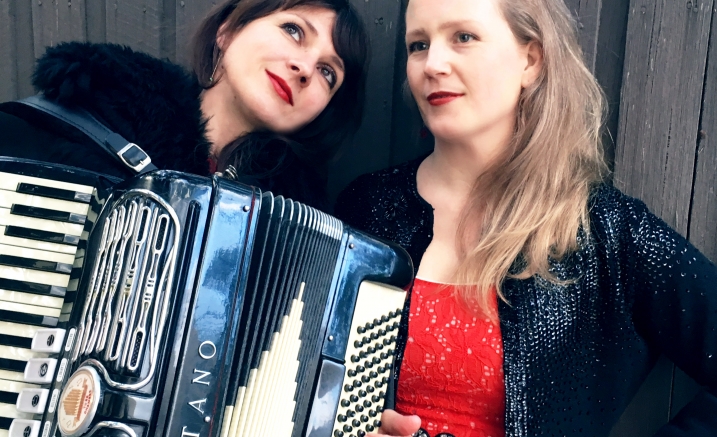 Details
Anja & Zlatna is a vibrant ensemble which seeks to preserve the beauty of traditional melodies from the beautiful Balkans and beyond.
Enhanced with the structural architecture of the Baroque they fuse together 17th century practices and folk improvisational languages to create music of unexpected charm. The ensemble's popularity is founded on their unique sound and original approach to instrumentation.
Expect to hear the harpsichord and on occasion a guitar, a cimbalom or an accordion. With sounds ranging from the Baroque flute to Eastern wind instruments such as the kaval or ney, and with vocalists varying from traditional European technique to Bulgarian chest voice, a performance by Anja & Zlatna will surprise, delight and transport to an exotic world beyond the concert hall.
Join Anja & Zlatna on a musical adventure introducing the Balkans, a region imbued with a fascinating and curious history. With subjects of love, lust, jealousy, pride and turmoil, this is folk music of a diverse melodic and rhythmic tradition, enriched by a playful and exquisite musico-cultural crossroads. When the Roads Meet includes songs from Serbia, Greece, Romania, Bosnia, Macedonia, Bulgaria, Moldova and Russia. Hear melodies which have sprung from centuries long past and retained powerful threads and themes which still reach present day communities. Anja & Zlatna's delightful musical interpretations will transport you to the faraway lands of the beautiful Balkans.
Presented by Melbourne Recital Centre and Anja & Zlatna
PROGRAM
Traditional
Suparat am fost de mic (Romania)
Morisey Sabina (Romani Hungary)
Moldavian cyrba (Moldavia)
Maria Me Ta Kitrina (Greece)
Moj Golube (Serbia)
Malka Moma (Bulgaria)
More cico rece da se zenim (Macedonia)
Kales, bre Andjo (Macedonia)
Udade se Jagodo (Serbia)
Brala moma Kapini (Macedonia)
Tamburalo momce u tamburu (Bosnia)
Kutka Avel E Seybari (Romani Hungary)
Moja ciganuka (Romani Russia)
Series
This production is part of the following series:
Ensemble Anja & Zlatna is known for its beautiful melodic lines and complex rhythms from Eastern Europe, the Middle East and beyond.
Now in its sixth year, Melbourne Recital Centre's Local Heroes series brings together Melbourne's best artists in a year-long festival of chamber music.
Booking Information
Saturday 8 April 2017 6pm
Duration: 1 hour (no interval)
Tickets
Standard $39 ($29 Concession)
This concert is set in-the-round. Seating in the Salon is general admission.
Save with Season Tickets
Purchase the Anja & Zlatna season ticket package and save!
Standard $66 ($49 Concession)
A Transaction Fee between $5.50 and $8 applies to orders made online and by phone. A Delivery Fee of up to $5.50 may also apply.