Bush Gothic with The Lonely String Quartet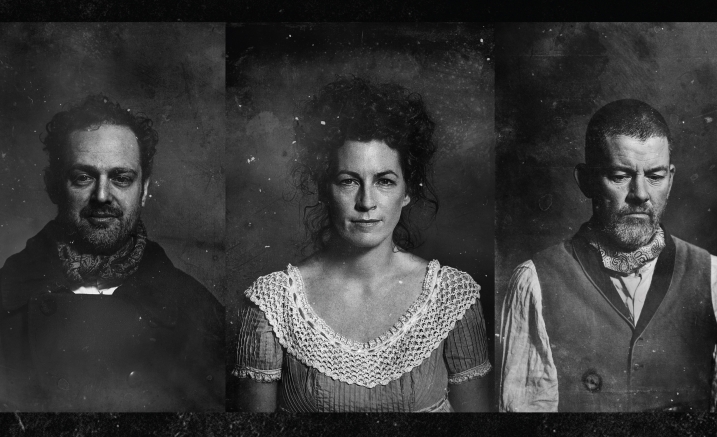 Details
'Mesmerising…utterly riveting. Australian folk at its finest.' Rip It Up Magazine
Favourites of the U.K. art-folk scene where they were given a 5-Star review in BBC Music Magazine, this post-modern bush band re-imagine trad Australian folk music until the unfashionable is transformed into rebellious beauty. This most daring of bands will turn your expectations about trad music upside down, performing defiantly modern, yet achingly old songs of criminal women and desperate men from an era of transportation, adventure and gold.
The Guardian described fiddle-singer and band leader Jenny M. Thomas as an 'Edgy rising folk star' and together with double bassist Dan Witton and drummer Chris Lewis they present a concert with The Lonely String Quartet, an ensemble consisting of some of Australia's premier string players.
Presented by Melbourne Recital Centre & Bush Gothic and The Lonely String Quartet
ARTISTS
Bush Gothic
Dan Witton double-bass vocals
Jenny M. Thomas piano/fiddle-singing/spoons
Chris Lewis percussion/drumkit/vocals
The Lonely String Quartet
Rebecca Adler violin
Sarah Curro violin
Jason Bunn viola
Rachel Johnston cello
PROGRAM
TRADITIONAL arr. Jenny M Thomas
Wild Colonial Boy
HENRY LAWSON arr. Jenny M Thomas
Andys Gone With Cattle
TRADITIONAL arr. Jenny M Thomas
Female Transport
Mines of Australia
Currency Lads
Black Velvet Band
JUDITH WRIGHT arr. Jenny M Thomas
Country Town
TRADITIONAL arr. Jenny M Thomas
London Convict Maid
HELEN PALMER, DOREEN BRIDGES & DAN WITTON
Ballad of 1891
DAN SHEAHAN & GORDON PARSONS arr. Jenny M Thomas
Pub With No Beer
JOHN WILLIAMSON arr. Jenny M Thomas
True Blue
Reviews
Bush Gothic's interpretations of classic Australian folk songs sear with power and truth….Australia's own Bush Gothic is incomparable.
Booking Information
Thursday 20 June 2019 6pm
Duration: 1 hour (no interval)
Tickets
Standard $39 ($29 Concession)
This concert is set in-the-round. Seating in the Primrose Potter Salon is general admission.
A Transaction Fee between $3.50 and $8.50 applies to orders made online and by phone. Delivery Fees may also apply.
Do you have a promo code?
Click 'Book Tickets' below to enter your promo code on the following page.
Did you know?
Melbourne Recital Centre Members enjoy waived transaction fees and save 10% on tickets to selected concerts? Click here for more information.