Satu Vänskä & Kristian Chong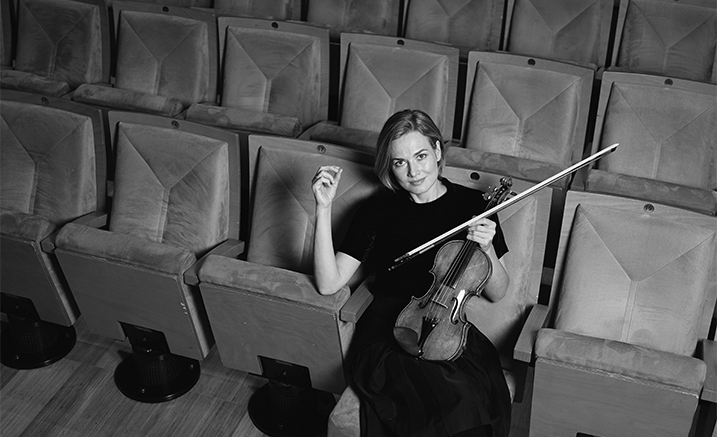 Details
'Vänskä's technical assurance and pristine tone, her delivery of bounding, cascading and crunching flourishes a masterclass in technique.' The Australian
To open our Great Performers Series in our 10th Anniversary year, we welcome one of Australia's superstar musicians – violinist Satu Vänskä. Well known as a member of the acclaimed Australian Chamber Orchestra, Satu also has a glittering career as a solo artist, breaker of boundaries, maker of magic. In this eclectic and sublime program, you will see why she is a national treasure to rejoice in.
The multifaceted talent and exceptional technique of violinist Satu Vänskä have seen her singing with the likes of Barry Humphries, Brian Ritchie and Meow Meow, playing in underground clubs, and of course, being Principal Violin of the Australian Chamber Orchestra. Vänskä's panache, versatility and insight is on display in the intricacies of Bach, Beethoven's heroic A-major sonata, Ravel's jazzily seductive sonata, the haunting soundscapes of Saariaho and the dynamism of Lutosławski. Ravel's homage to the brilliance of 'gypsy' fiddling, Tzigane, is the ultimate showpiece for both Vänskä's Stradivarius and her stylish virtuosity.
Presented by Melbourne Recital Centre
PROGRAM & TALKS
Program
Witold Lutosławski
Subito
J.S Bach
Violin Sonata No.1 in G minor, BWV 1001
Adagio & Fugue
Ludwig van Beethoven
Sonata for piano & violin in A, Op.30, No.1
Kaija Saariaho
…de la Terre
Maurice Ravel
Violin Sonata No.2 in G
Tzigane
Pre-Concert Talk
Join us in Elisabeth Murdoch Hall for a pre-concert talk from 6.45pm – 7.15pm.
SEASON TICKET PACKAGES
Save on tickets and have the flexibility of a choose-your-own Season Ticket Package.
Purchase all eight concerts to enjoy the greatest saving and additional benefits, or purchase a Flexible Package to personalise your experience.
8 Concerts
Save 30%, renewable seats
Premium $690
A reserve $612
B reserve $522
C reserve $372
6 Concerts
Save 20%, flexible
Premium $552
A reserve $489
B reserve $417
C reserve $297
4 Concerts
Save 10%, flexible
Premium $391
A reserve $346
B reserve $295
C reserve $210
Cast & Crew
Booking Information
Wednesday 20 February 2019 7.30pm
Duration: 1 hour 50 mins (incl. interval)
Tickets
Premium $115
A reserve $102 ($55 Concession)
B reserve $87 ($55 Concession)
C reserve $62 ($55 Concession)
Season Ticket Packages
See the Season Ticket Packages tab below for more information.
A Transaction Fee between $3.50 and $8.50 applies to orders made online and by phone. Delivery Fees may also apply.
Do you have a promo code?
Click 'Book Tickets' below to enter your promo code on the following page.
Did you know?
Melbourne Recital Centre Members enjoy waived transaction fees and save 10% on tickets to selected concerts? Click here for more information.