Cancelled: Orbits & Riffs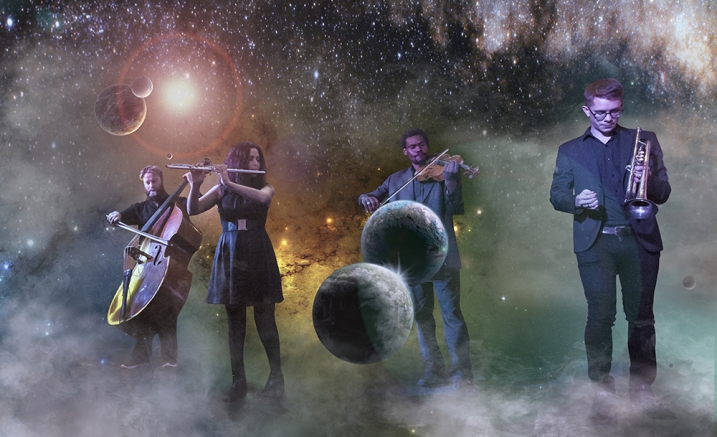 Details
Concert Cancellation Notification
We regret to advise Ephemera Quartet: Orbits & Riffs on Thursday 8 October has been cancelled.
Melbourne Recital Centre cares deeply about the health and safety of its audiences, artists and staff. We acknowledge that the suspension of normal operations in response to the Coronavirus (COVID-19) is a difficult but essential action for the health of the Victorian public. We are committed to supporting our staff during this time and difficult circumstances. We thank our community for its support during this challenging time.
All ticket holders are entitled to a full refund via their original point of purchase. We are currently in the process of arranging refunds.
If you have any questions or concerns about this concert cancellation please contact our Ticketing Services team at boxoffice@melbournerecital.com.au
Event details
'Atmospheric, husky trumpet and dreamy piano.' Limelight
Jazz astronauts Ephemera Quartet travel skyward in a musical exploration of the cosmos. Merging the sound worlds of jazz and contemporary classical, and set to real space sounds and images, Ephemera Quartet is a unique experience. Mesmerising projected spaces-capes and NASA imagery of the electromagnetic waves from planets and stars are the backdrop to a stellar set where riffs and rhythms orbit amongst the planets, moons and stars.
The ensemble is led by Keyna Wilkins (piano/flute/compositions) with Elsen Price (double bass/loop pedal), Will Gilbert (trumpet) and Carl St Jacques (viola). Since forming in 2015, Ephemera has had a series of successful shows including being featured in the Extended Play Festival of New Music at Sydney's City Recital Hall in 2018 and Sydney International Womens' Jazz Festival in 2017.
'Arresting, genre-blurring … music of massive breadth and sometimes high drama.' Sydney Morning Herald
Presented by Melbourne Recital Centre and Ephemera Quartet
Booking Information
Thursday 8 October 2020 7pm
Duration: 1 hour (no interval)
Tickets
Standard $31 ($25 Concession)
This concert is set in-the-round. Seating in the Primrose Potter Salon is general admission.
A Transaction Fee between $3.50 and $8.50 applies to orders made online and by phone. Delivery Fees may also apply.
Do you have a promo code?
Click 'Book Tickets' below to enter your promo code on the following page.
Did you know?
Melbourne Recital Centre Members enjoy waived transaction fees and save 10% on tickets to selected concerts? Click here for more information.