Cancelled: They swim through air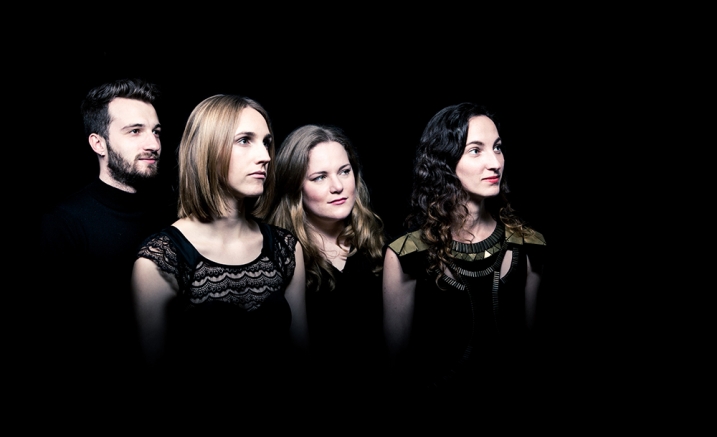 Details
Concert Cancellation Notification
We regret to advise Rubiks Collective on Monday 28 September has been cancelled.
Melbourne Recital Centre cares deeply about the health and safety of its audiences, artists and staff. We acknowledge that the suspension of normal operations in response to the Coronavirus (COVID-19) is a difficult but essential action for the health of the Victorian public. We are committed to supporting our staff during this time and difficult circumstances. We thank our community for its support during this challenging time.
All ticket holders are entitled to a full refund via their original point of purchase. We are currently in the process of arranging refunds.
If you have any questions or concerns about this concert cancellation please contact our Ticketing Services team at boxoffice@melbournerecital.com.au
Event details
Dynamic contemporary art music group Rubiks Collective debuted in 2015 and has quickly won praise for its 'incredibly personal, strangely spiritual and ultimately deeply touching' performances (Limelight magazine).
Rubiks works with the artistic pioneers of our time, including Marcus Fjellström, Xuan, Bec Plexus, Kinds of Kings, Short Black Opera and Invenio Singers. In 2017 Rubiks launched the Pythia Prize for female and gender nonconforming composers.
Rubiks Collective performs a feast of works from some of the world's most impressive innovators in contemporary music. Suzanne Farrin's The Stimulus of Loss explores the unique and haunting sounds of the ondes Martenot (early electronic instrument) combined with 'glissando headjoint' (a modified flute headjoint that mimics the human voice). Rubiks's virtuosic playfulness comes to the fore in Jessie Marino's The Whale Is a Capital Fish, a celebration of the ritual absurdity and technical mastery exhibited in everyday activities. Capping this off are new Australian works from Sydney's trailblazing Alice Chance and the winner of Rubiks's 2019 Pythia Prize.
Presented by Melbourne Recital Centre and Rubiks Collective
ARTISTS
Tamara Kohler flutes
Gemma Kneale cello
Jacob Abela keyboards
Kaylie Melville percussion
PROGRAM
Alice Chance
New Work
Suzanne Farrin
The stimulus of loss
Jessie Marrino
The whale is a capital fish
2019 Pythia Prize Winner
New work
Series
This production is part of the following series:
Now in its ninth year, Melbourne Recital Centre's Local Heroes series brings together Melbourne's best artists in a year-long festival of chamber music.
From contemporary classical music to cross-cultural collaborations, experience boundary-breaking and genre-defying music.
Booking Information
Monday 28 September 2020 6pm
Duration: 1 hour (no interval)
Tickets
Standard $40 ($29 Concession)
Purchase the Rubiks Collective two-concert package and save!
Standard $68 ($50 Concession)
This concert is set in-the-round. Seating in the Primrose Potter Salon is general admission.
A Transaction Fee between $3.50 and $8.50 applies to orders made online and by phone. Delivery Fees may also apply.
Do you have a promo code?
Click 'Book Tickets' below to enter your promo code on the following page.
Did you know?
Melbourne Recital Centre Members enjoy waived transaction fees and save 10% on tickets to selected concerts? Click here for more information.