Bach and Beamish: Sophie Rowell and James Crabb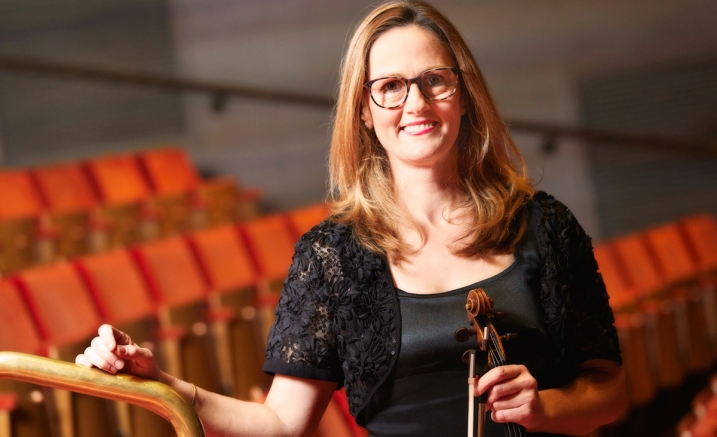 Presented by Melbourne Symphony Orchestra
Details
A celebration of J.S. Bach
MSO Concertmaster Sophie Rowell leads the Orchestra through a celebration of the incomparable J.S. Bach and the prolific composer's influence on music of the present day, with Scottish accordion virtuoso James Crabb as soloist.
An unusual substitution
This coupling of J.S. Bach and English composer Sally Beamish sees James Crabb play the part of continuo, normally reserved for the harpsichord, on the piano accordion. Sophie Rowell play-directs Bach's Orchestral Suite No.3, lavishly orchestrated for its time, highlighting the composer's mastery of harmony, rhythm and his sense of fun. This 1730 suite contains one of the most famous and beautiful movements in the entire Bach canon, the Air on the G String.
A master of contemporary music
James Crabb has been praised world-over for his versatile musicianship, appearing with the London Philharmonic, BBC Scottish Orchestra and countless contemporary ensembles. Among his various Australian performances, Melbourne audiences will remember Crabb conducting and performing in Victorian Opera's 2013 production of Maria de Buenos Aires.
A late addition to a classic work
The peculiar thing about Bach's Brandenburg Concerto No.3 is the lack of a fully developed slow movement. Concerti movements usually follow a fast-slow-fast format, but here Bach differed from the norm, which is how Sally Beamish's Brandenburg 'Slow movement' came to be. Intended to serve as the missing movement in a complete performance, this work was commissioned by the Lautten Compagney Berlin and first performed in 2010.
COVID

Safety

Melbourne Recital Centre is committed to the safety of our artists, staff and patrons. As we reopen, a range of public health, hygiene and physical distancing measures will be in place. Click here to learn more.
ARTISTS
Melbourne Symphony Orchestra
Sophie Rowell director & violin
James Crabb accordion
PROGRAM
J.S. Bach
Orchestral Suite No. 3
Sally Beamish
Seavaigers
J.S. Bach
Brandenburg Concerto No. 3: Allegro, Adagio
Sally Beamish
Brandenburg 'Slow movement'
J.S. Bach
Brandenburg Concerto No.3: Allegro
Series
This production is part of the following series:
Rediscover the art of listening with the Melbourne Symphony Orchestra.
Booking Information
Thursday 3 & Saturday 5 June 2021 6pm & 8.30pm
Tickets
Premium $101 ($96 Concession)
A reserve $85 ($80 Concession)
B reserve $63 ($58 Concession)
C reserve $52 ($47 Concession)
Subject to evolving restrictions in Victoria, all seating configurations and capacities are subject to change. If tickets are currently unavailable for this concert and you would like to join the waitlist, please contact the Box Office on (03) 9699 3333.
A Transaction Fee between $3.50 and $8.50 applies to orders made online and by phone. Delivery Fees may also apply.
Do you have a promo code?
Performances