Ike See, Wenhong Luo & Richard Narroway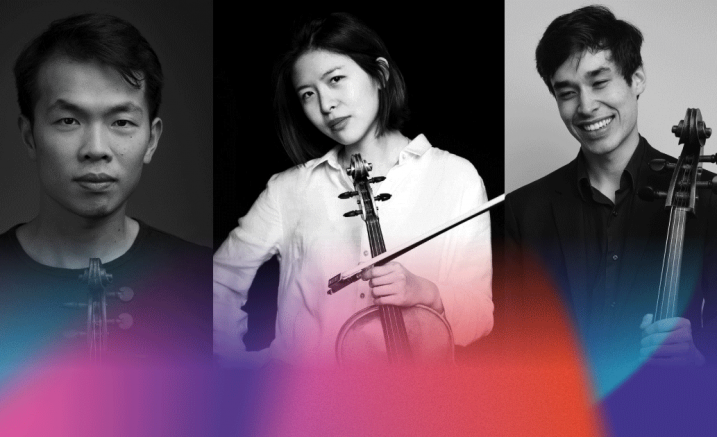 Presented by Melbourne Recital Centre
Details
Electrifying and exquisite music for strings brought to life by a trio of dynamos.
Together Ike See, Wenhong Luo and Richard Narroway are a musical force to be reckoned with, each deservingly lauded for their fine musicianship, passion and vitality.
Singapore-born violinist Ike See is a member of the Australian Chamber Orchestra and enjoys a varied career as a chamber musician, soloist, leader and director. A three-time first prize winner at the Singapore National Violin Competition, Ike has performed as a soloist with the ACO, Adelaide Symphony Orchestra, Singapore Symphony Orchestra, Orchestra of the Music Makers, and Singapore National Youth Orchestra.
Violist Wenhong Luo studied at London's Royal Academy of Music and the New England Conservatory of Music in Boston and has participated in the prestigious the Kronberg Academy's 'Chamber Music Connects the World' project in Germany, collaborating with classical luminaries Andries Schiff, Steve Isserlis, and Christian Tetzlaff.
Cellist Richard Narroway is a Juilliard School graduate whose career has seen him perform across Australia, North America, Europe and Asia, and grace the stages of iconic venues including the Kennedy Center, Koerner Hall and Sydney Opera House. He is also a founding member of Four Corners Ensemble (4CE), a group dedicated to celebrating diversity through new music.
The trio presents an evening of electrifying and exquisite music for strings, bringing new light to works by Penderecki, Dohnányi and Beethoven.
Praise for Artists
Richard Narroway
'The cello is a messenger of exhilarating and pensive authority in Narroway's hands.' Gramophone
Thanks to our partners
Digital Series Partner: Australian Digital Concert Hall
Program Partner: The Langham Melbourne
COVID

Safety

Melbourne Recital Centre is committed to the safety of our artists, staff and patrons. As we reopen, a range of public health, hygiene and physical distancing measures will be in place. Click here to learn more.
ARTISTS
Ike See violin
Wenhong Luo viola
Richard Narroway cello
PROGRAM
Ludwig van Beethoven
String Trio in C minor, Op.9 No.3
Krzysztof Penderecki
String Trio
Ernő Dohnányi
Serenade in C, Op.10
Series
This production is part of the following series:
Melbourne Recital Centre's favourite program series, Great Performers, returns in 2022.
Celebrate the best local and international music at the award-winning venue where live music lives.
Booking Information
Friday 22 July 2022 7.30pm
Duration: 1 hour 15 mins (no interval)
Tickets
Premium $115
A Reserve $99 ($87 Concession)
B Reserve $85 ($67 Concession)
C Reserve $64
D Reserve $49
Experience this concert online with Australian Digital Concert Hall
Click here for live stream tickets
Subject to evolving restrictions in Victoria, all seating configurations and capacities are subject to change. If tickets are currently unavailable for this concert and you would like to join the waitlist, please contact the Box Office on (03) 9699 3333.
A Transaction Fee between $3.50 and $8.50 applies to orders made online and by phone. Delivery Fees may also apply.
Do you have a promo code?
Performances