Rubiks Collective –They Swim Through Air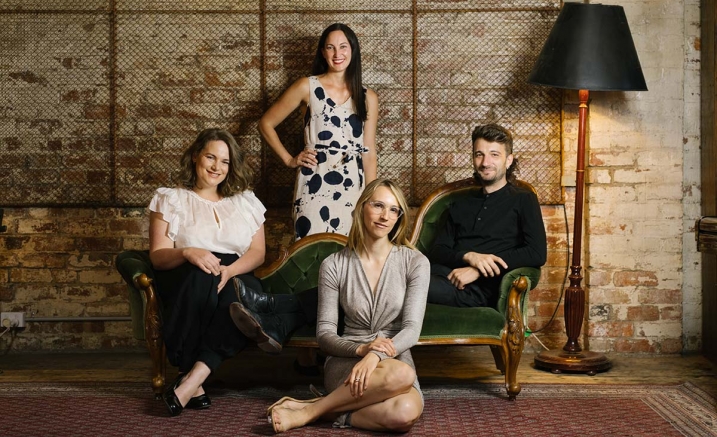 Presented by Melbourne Recital Centre & Rubiks Collective
Details
A program that reflects on the rituals and processes of life.
About the artists
Rubiks Collective put music at the heart of its practice, recognised as creators of powerful, polished and deeply personal artistic experiences. With interests spanning storytelling to cross-art collaboration, its dynamic performances delight and dazzle audiences with unique programming and virtuosity.
About the concert
They Swim Through Air showcases the exuberance, imagination and artistry of new music creators from Australia and beyond with a program that reflects on the rituals and processes of life.
Inspired by Tolkien's use of the term 'sky-fields' in Lord of the Rings, Gemma Peacocke reflects on the travels of the sun and the power of hope, while Leah Blankendaal's Beacon explores how memories are retained within the body over a lifetime.
Rubiks' virtuosic playfulness comes to the fore in Jessie Marino's The Whale Is a Capital Fish, a celebration of the ritual absurdity and technical mastery exhibited in everyday activities. The program finishes with the premiere of a new work from the winner of Rubiks' 2021 Pythia Prize.
Praise for Rubiks Collective
'Incredibly personal, strangely spiritual and ultimately deeply touching.' Limelight Magazine
COVID

Safety

Melbourne Recital Centre is committed to the safety of our artists, staff and patrons. As we reopen, a range of public health, hygiene and physical distancing measures will be in place. Click here to learn more.
ARTISTS
Tamara Kohler flutes
Gemma Kneale cello
Jacob Abela keyboards
Kaylie Melville percussion
Tbc narrator
PROGRAM
Felicity Wilcox
New Work – 2021 Pythia Prize winner
Gemma Peacocke
Sky Fields
Leah Blankendaal
Beacon
Jessie Marino
The whale is a capital fish
Series
This production is part of the following series:
Booking Information
Wednesday 26 October 2022 7pm
Duration: 1 hour (no interval)
Tickets
Standard $37 ($30 Concession)
A Transaction Fee between $4 and $8.50 applies to orders made online and by phone. Delivery Fees may also apply. For bookings for over four people, please call our Box Office during business hours on 03 9699 3333 for more information.
If tickets are currently unavailable for this concert and you would like to join the waitlist, please contact the Box Office on (03) 9699 3333.
Do you have a promo code?
Performances