Melbourne Recital Centre is home to a small collection of dynamic artworks which complement the Centre's aesthetic and artistic vision.
The Dulka Warngiid Tapestry
In 2007, The Hugh Williamson Foundation commissioned the vibrant tapestry, Dulka Warngiid for Melbourne Recital Centre and the Victorian community. The commission realised the wish of Dame Elisabeth Murdoch AC DBE, our Patron, for a major work to bring together two of her great passions, being tapestry and music.
Based on a large-scale collaborative work by seven women artists from Bentinck Island and held by the National Gallery of Victoria, the painting represents the country of each woman in a combined work of vibrancy and deep meaning. The artists are based at Mornington Island Arts and Craft in the Gulf of Carpentaria.
'We each painted our country area which was special for us. Our painting is all of our country. That's what the title means – country, place, land – land of all.'
Located in the Level Two foyer, the tapestry was woven by Amy Cornall, Rebecca Moulton and Cheryl Thornton of the Australian Tapestry Workshop during 2008 and 2009. The artwork reflects the joyful exuberance of the painting, with richness added through its interpretation by the Workshop's weavers, who are all trained artists. The tapestry was unveiled when the Centre opened in February 2009 and is visual testimony to its aspiration to be a hub of creative innovation and excellence where the joy of artistic expression is shared by all.
Dulka Warngiid (Land of All) 2007
Materials: wool, cotton
Dimensions: 6.1m (w) x 1.95 (h)
Weavers: Amy Cornall, Rebecca Moulton, Cheryl Thornton
Artists: Mirdidingkingathi Juwunda Sally Gabori, Birrmuyingathi Maali Netta Loogatha, Warthadangathi Bijarrb Ethel Thomas, Warthadangathi Bijarrb Ethel Thomas, Thunduyingathi Bijarrb May Moodoonuthi, Kuruwarriyingathi Bijarrb Paula Paul, Wirrngajingathi Bijarrb Dawn Naranatjil, Rayarriwarrtharrbayingat Amy Loogatha.
The Williams Room
Fred Williams OBE (1927–1982) is regarded as one of Australia's most prolific painters and printmakers. His pioneering vision of the Australian landscape and inspired works are celebrated for their distinctive interpretations and technique.
The Williams Room is named after the renowned Australian artist and is home to a selection of Williams' lithographs from 1976-78, including the works Werribee Gorge I & II, Kelly's Creek, Dry Creek Bed, Wild Dog Creek I & II.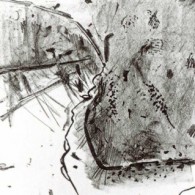 Williams was influenced by the rugged, unchanged character of these places, untouched by farming or residential development and sought to bring these places to life in his abstract and awe-inspiring style.
'Fred brought us a new vision of Australia's landscape. He changed the way we see our country: an achievement which will live long after all of us are gone' John Brack
The works on display in the Williams Room are kindly donated by his Fred's wife and Melbourne Recital Centre patron, Lyn Williams AM.
Andrew Brook's

DONUT

I
Until January 2019, you can view Brook Andrew's stunning sculpture Donut I hanging in Melbourne Recital Centre's grand staircase.
Donut I is a floating sculpture representing the optical patterned matrix of Wiradjuri design. Used in other works such as The Cell and Jumping Castle War Memorial, the hard-edge black and white matrix acts as a metaphor for seeing differently. The traditional Wiradjuri design and the contemporary optical experience reference how and what we see as a historical influence on our contemporary lives. Click here to read more.