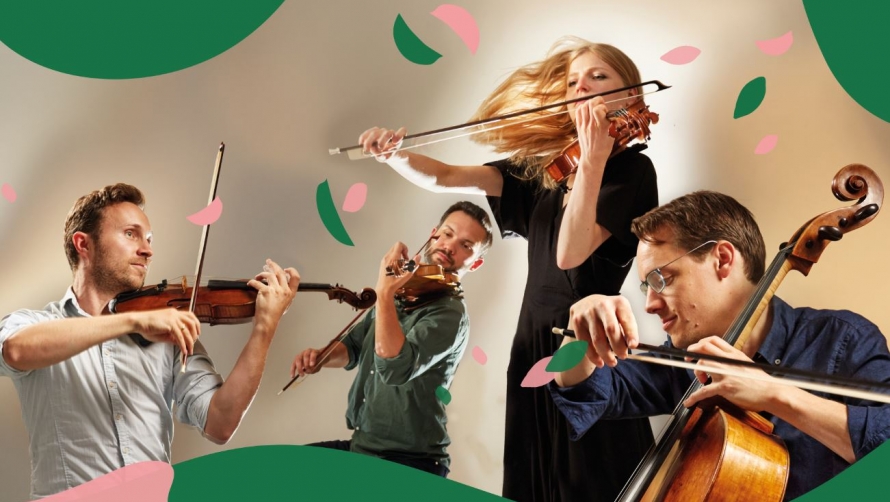 Hear Together: Doric String Quartet
Join us on YouTube or Facebook at 1pm this Saturday 15 August for our latest concert premiere: Doric String Quartet, recorded live at Melbourne Recital Centre and presented by Musica Viva Australia.
Performed in 2019, this yet-to-be-seen live concert recording showcases Britain's leading quartet as they play with a captivating blend of sophistication and passion.
Founded in 1998, the Doric String Quartet has firmly established itself as the leading British string quartet of its generation, receiving enthusiastic responses from audiences and critics across the globe. Whether tackling the delicate nuances of earlier composers, or embracing the dramatic gestures of contemporary ones, the Dorics meet every artistic challenge with a captivating blend of sophistication and passion.
This concert features the must-see premiere of Brett Dean's String Quartet No. 3, Hidden Agendas, co-commissioned with Melbourne Recital Centre and premiered by the Doric String Quartet, which has just been nominated in the Australian Music Centre Art Music Awards for Chamber Music Work of the Year!
Stream details
Doric String Quartet this Saturday 15 August 1pm.
Click here to watch on YouTube.
Click here to watch on Facebook.
Stay Connected
Subscribe to Melbourne Recital Centre's YouTube channel for more live concert videos and premieres.
Escape the news in your news feed and follow Melbourne Recital Centre on Facebook for more inspiring and uplifting content.
Discover the stories behind the music over on Soundescapes.