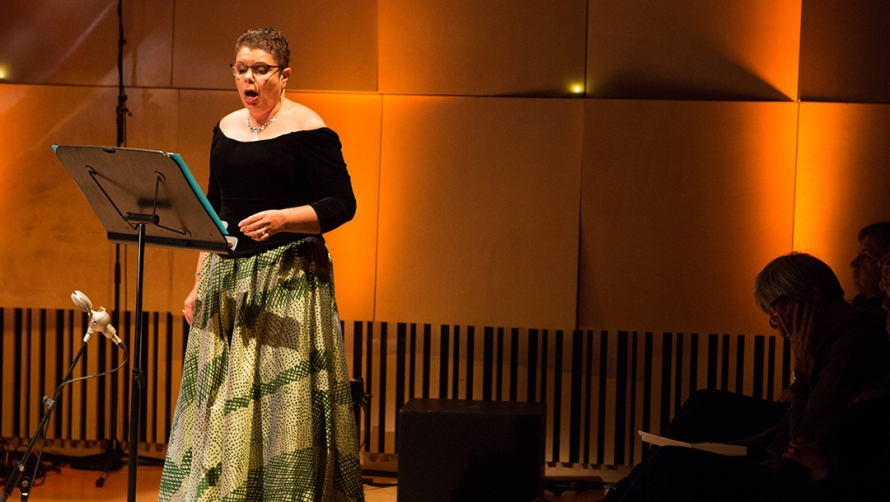 Merlyn Myer Music Commission 2021
Melbourne Recital Centre is pleased to announce the fourth Merlyn Myer Music Commission.
Established in memory of Dame Merlyn Myer (1900-1982), the initiative was founded to support one female composer in Australia biennially. The previous commissions have been awarded to Sally Greenaway in 2015, Andrea Keller in 2017 and Deborah Cheetham AO in 2019.
In 2021 the Merlyn Myer Music Commission will enable an Australian female composer to create a new musical work. The commission has been designed to provide significant creative freedom to a composer, foster her artistic development and provide an opportunity for her new work to be performed, heard and recorded in an outstanding performance setting. The commission component of this project is $12,000 cash. Melbourne Recital Centre will cover all costs associated with the presentation and documentation of the performance.
The selected composer will be invited to write music of any genre, up to 30-minutes in length and involve instrumentation of the composer's choosing, for up to eight players. The work will be performed by the composer's choice of an established ensemble or her selection of artists. Melbourne Recital Centre may be able to facilitate introductions as appropriate. The premiere performance will take place in Melbourne Recital Centre's Primrose Potter Salon on a date in 2021 to be mutually agreed by the composer, performers and venue. A recording of the performance will be made and will be published on Melbourne Recital Centre's YouTube channel.
The award will consist of cash, a performance of the new work in the Primrose Potter Salon and an edited video of the performance. The composer would use the cash to pay herself for her composition and making scores, while Melbourne Recital Centre will cover the costs for the performers including rehearsals and performance. Travel costs will be provided for the composer if applicable, opening the commission up to female composers living and working anywhere in Australia. It's expected that the composer and performers will support student engagement through students' attendance at a rehearsal or a workshop session during the period of the project.
This commission opportunity is open to all Australian female composers. The winning composer will be selected by a panel including representatives of Melbourne Recital Centre, the Myer family, and industry experts.
'As we emerge from this extraordinary year, it's a joy to be able to announce this opportunity for artists. Artists and creativity are at the core of our activity here at the Centre, and the three previous commissions have been highlights of our annual season. Supporting a composer directly to create a new work for performers and audiences is always an exciting adventure, and we hope provides a platform for optimism, creativity, and a pathway to a bright future.' Marshall McGuire, Director of Programming
'We should not be surprised that, in this oddest of times, we have turned so often to creativity, imagination and ideas to sustain us. This commission was created to ensure that female composers, often less well known, would be funded to create work that might be inspiring to composers, musicians, and audiences alike. On behalf of the Aranday Foundation and Yulgilbar Foundation, we are delighted that the process is now underway for the next Merlyn Myer Music Commission. It is a timely moment to devise, shape and create a new musical memory.' Annabel and Rupert Myer
Key Dates
Applications open, 30 September 2020
Applications close, 30 November 2020
Candidates notified of application outcome, January 2021
Premiere performance in the Primrose Potter Salon, November 2021 (date TBC)
Expressions of Interest Applications
Applicants are asked to submit their biography (max 200 words), a statement about the proposed project (max 200 words), an idea of who they would like to work with and confirmation that the artists would be open to the project, links to recent music/video files, contact details and the option to upload a one-page PDF giving further information about her ideas for the project.
Expressions of interest are sought from eligible applicants by Monday 30 November at 12 noon (AEST). To apply to be considered for the Merlyn Myer Music Commission 2021, click the button below.
Please direct any questions to Sarah Wade, Artistic Planning Coordinator, at sarah.wade@melbournerecital.com.au
The Merlyn Myer Music Commission is generously supported by The Aranday Foundation and The Yulgilbar Foundation.