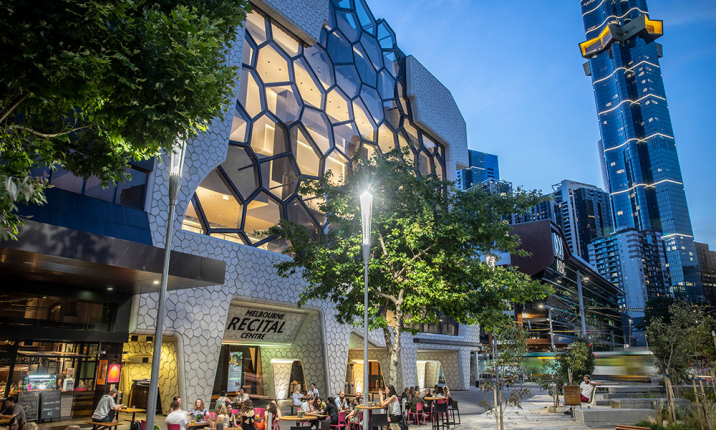 OUR
VISION
Create wonder for everyone, in and beyond Melbourne Recital Centre.
OUR
MISSION
Where artists and audiences build a lifetime of experiences.
OUR
PURPOSE
To inspire through music.
OUR
VALUES
As an organisation Melbourne Recital Centre values the following principles and behaviours equally:
We carry ourselves and treat everyone with respect, integrity and trust.
We believe in the power of music and how it fuels our passion and creativity.
We promote inclusion, accessibility and diversity across all that we do.
We demonstrate transparent communication and foster purposeful collaboration.
We build meaningful connections with our community and strive to deliver high value customer service and satisfaction.
OUR
MANIFESTO
Music is a universal language. It's the heart and soul of what we do and has the power to unite, transform and transcend.
Through harnessing its power and celebrating music in all its extraordinary forms, we create authentic and intimate live experiences that connect, inspire, and create wonder for our dynamic and evolving community whom we serve.
We're for the music-lovers, the music-makers and the sound creators, the administrators and the operators, who work as one to create aural magic in our spaces and beyond.
We champion local and attract global talent, attention, and acclaim.
We strive for pride without arrogance, discovery without fear, inclusion without prejudice, innovation without stagnation, and connection without barriers.
The future of live music is boundless. The future of Melbourne Recital Centre is bold and bright, as we aspire to be the preeminent venue for experiencing live music in Australia.
We are lovers of live music. We are where live music lives.
CONSTITUTIONAL
PURPOSE
The company's objectives are the promotion of live music, by, without limitation:
• planning and managing the operations of the Centre as a purpose-built venue
• presenting musical works old and new, performances and programming; and
• promoting Melbourne Recital Centre; and
• assisting in the funding of these objectives.
 
MELBOURNE RECITAL CENTRE IS A RESPECTFUL WORKPLACE

At Melbourne Recital Centre, we aim to provide the best possible working environment for our team members and anyone who enters our spaces: one that is based on collaboration and respect.
Whether you are a customer, visitor, employee, contractor, artist, technical crew, function attendee or volunteer, we expect you to contribute to an environment that upholds these standards.
Please view our Respectful Behaviours policy and Respectful Workplace Statement in the Downloads section on this page.