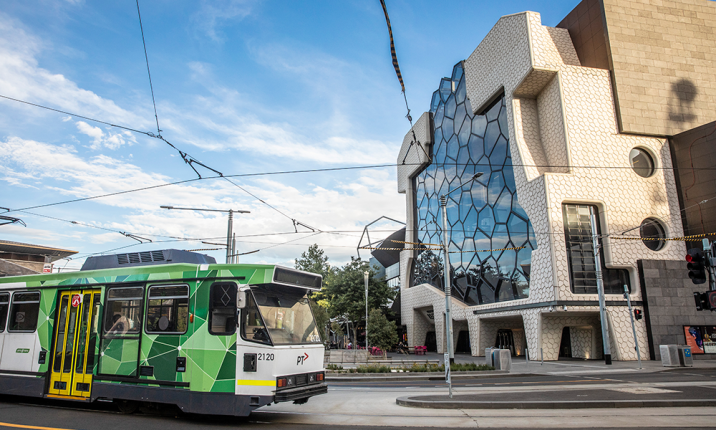 Melbourne Recital Centre is located on the corner of Southbank Boulevard and Sturt Street in Southbank – the heart of Melbourne's Arts precinct.
Public Transport
Public Transport Victoria provides extensive information about public transport services including timetables and routes. You can contact them at ptv.vic.gov.au and 131 638.
Trams
Arts Precinct, Sturt St, Stop 17 is on the Route 1 service and is conveniently located at the Centre's doorstep. This is a platform tram stop providing level access to low floor trams, passenger shelter and protection from traffic.
Alternatively you can alight at Stop 16, in front of the National Gallery of Victoria. Melbourne Recital Centre is a short walk down Southbank Boulevard (approximately 200 metres). This stop is serviced by routes 1, 3, 5, 6, 8, 16, 64, 67, 72.
Click here to view tram timetables on the PTV website.
Train
The nearest station is Flinders Street, located approximately 10 minutes walk from the Centre.
Click here to view train timetables on the PTV website.
Bus
The route 605 bus operates along Southbank Boulevard. Disembark at Victorian College of the Arts/Southbank Boulevard. Services towards City (Queen St) stop directly outside of Melbourne Recital Centre. 
Click here to view bus timetables on the PTV website.
Parking
Limited on-street parking is available around Southbank or you can choose from a variety of conveniently located car parks when attending events at the Centre.
Parking for people with a disability is available at all major car parks in the vicinity, including Arts Centre Melbourne Car Park and The Primrose Potter Australian Ballet Centre Car Park. Please note, access to these car parks is via Kavanagh St.
Permanent Sturt St Closure & Changes to Cark Park Entry
To help facilitate the delivery of the $1.7 billion Melbourne Arts Precinct Transformation, the remaining section of Sturt Street between Kavanagh Street and Southbank Boulevard has closed. Click here for more information.
Can I still park at Arts Centre Melbourne and The Primrose Potter Australian Ballet Centre car parks?
Yes, you can. For the smoothest journey to the car parks, we recommend approaching via Kavanagh Street. This is due to changed conditions on Southbank Boulevard and ongoing construction on City Road. All cars exiting the Arts Centre Melbourne car park onto Southbank Boulevard must turn left.
Please note, due to the dynamic nature of this project, access to the car parks may change from time to time. Please follow any detours put in place by traffic managers.
For more information, read the Melbourne Arts Precinct Transformation construction update in the downloads section of this page.
Pedestrian Access
If you're visiting the precinct on foot, you will notice some changes to pedestrian access. The pedestrian footbridge connecting Arts Centre Melbourne's Theatres Building to The Primrose Potter Australian Ballet Centre was taken down in March and an interim footbridge has been installed. You can access The Primrose Potter Australian Ballet Centre from St Kilda Road via the Arts Centre Melbourne carpark, or via Kavanagh Street. The intersection at Sturt and Kavanagh has also been permanently closed to pedestrians.
Please note, pedestrian access may change throughout the Melbourne Arts Precinct Transformation project. Please follow any detours put in place by traffic managers. See the latest project update in the Downloads section of this page for more information.
Taxis and Ride Share
The Sturt Street entrance of the Centre is the safest place for taxis and ride share drivers to pick up and drop off. A taxi rank is located on St Kilda Road in front of the State Theatre, Arts Centre Melbourne. If you have any questions, please ask a staff member.
Dropping Off/Picking Up
For safe drop offs and collections we recommend Dodds Street which is located next to Southbank Theatre and can be entered via Grant Street. This location has four accessible car spaces. From there you will be able to walk along Southbank Boulevard past Southbank Theatre and the restaurants to our entrance. Click here for more information about the City of Melbourne's Transforming Southbank project.
Coming from Afar
Melbourne Recital Centre welcomes people visiting from regional and rural areas, interstate and overseas.
Experience the incomparable hospitality of The Langham Melbourne. Voted for the third consecutive year, winner of the Travel + Leisure Magazine USA 'World's Best Awards Readers' Survey' as the top city hotel in Australia, New Zealand and the South Pacific.
The legendary service of The Langham, Melbourne hotel positions it as a jewel among Melbourne hotels. Its enviable riverside location further enhances the allure of this exceptional Melbourne hotel.
Precinct Map
The map shows how you can navigate around the precinct.