Toranj with Fine Blue Thread – Resonance & Rhythm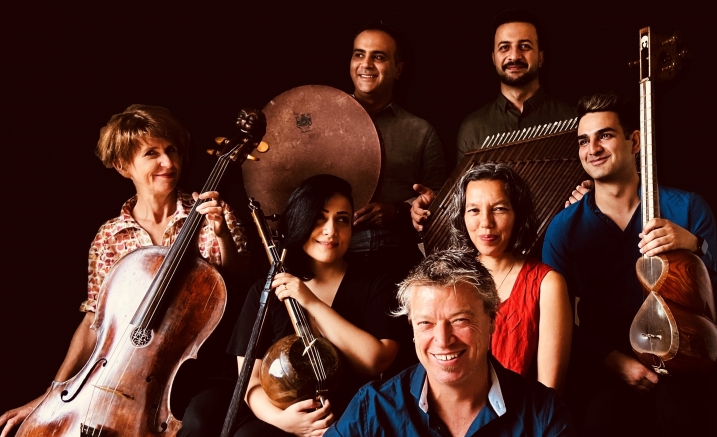 Presented by Melbourne Recital Center & Toranj with Fine Blue Thread
Details
Immerse yourself in thousands of years of Persian history with stories of passion, grief and joy.
Toranj unites seven highly skilled musicians, each deeply trained within their own musical tradition to create exquisite and unique music that showcases a treasure trove of traditional Persian instruments, including the tabla, tar, oud, santour and kamanche.
Fine Blue Thread play finely crafted, fresh and intriguing compositions that are grounded in the traditions of Indian, Javanese and Western music.
About the concert
Together, Fine Blue Thread and Toranj weave richly textured music that tells stories from thousands of years of Persian history – stories of passion, grief and joy that will make you weep and then sweep you up in a glorious joyful whirl of resonance and rhythm.
Praise for Fine Blue Thread
'Their music is not about blurring boundaries but rather a snapshot of their local high street…an expression of the world we live in. Their musical prowess and passion for improvisation has produced a perfect backdrop for what is simply, really good music!' – Lopa Kothari BBC Radio3, London
'Based in tradition but decidedly modern, their delicate mix of influences unfolds gently, revealing a rich collage of enchanting melodies and rhythmic nuances.' – Limelight Magazine
Caring for Our Community
Melbourne Recital Centre is committed to the safety of our artists, staff and patrons. A range of public health, hygiene and physical distancing measures are currently in place. Click here to learn more.
Artists
Ria Soemardjo voice
Sam Evans tabla
Helen Mountfort baroque cello
Reza Kashi oud, tar
Farid Kazemi percussion, frame drum
Hamid Khishavand santour
Negar Nik kamanche
Program
Fine Blue Thread
Forever
Swallow
Grasslands
Fine Blue Thread
Lighthouse
Le Trio Joubran
Masar
Reza Kashi
Space Time
Traditional
Sari Gelin
Reza Kashi
Breath
Booking Information
Tuesday 12 September 2023 6pm
Duration: 1 hour (no interval) Please note, running times are approximate and subject to change.
Tickets
Standard $50 ($40 Concession)
A Transaction Fee between $4 and $8.50 applies to orders made online and by phone. Delivery Fees may also apply. For bookings for over four people, please call our Box Office during business hours on 03 9699 3333 for more information.