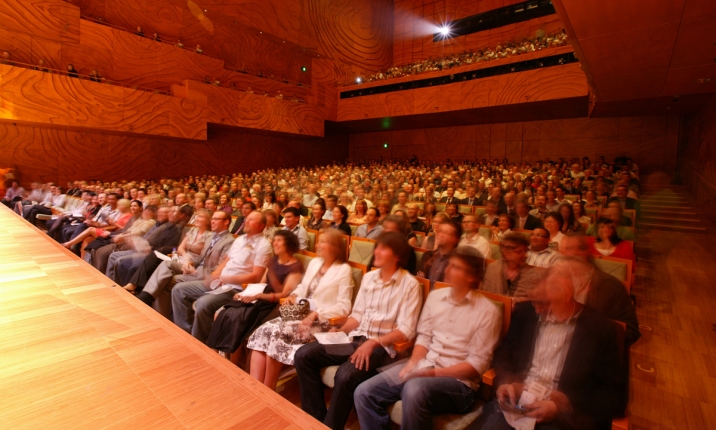 Melbourne Recital Centre is the best place to hear live music.
With over 500 performances each year, there's something for everyone!
For selected performances, Student Rush tickets are available at the Box Office from one hour prior to the performance.
Student Rush tickets are only available in person and subject to availability. Student cards must be valid at the time of booking and presented when purchasing tickets prior to a performance. And remember, only the Student card-holder may purchase a Student Rush ticket.
Student Rush is available for the following performances:
Johannes Luebbers Dectet, Saturday 27th October
She and He – My Life with Chopin, Monday 29th October
Australiana, Tuesday 30th October
Mademoiselle, Wednesday 31st October
Schumann Quintet with Andrew Haveron, Thursday 1st November
Creatures at the Crossroads, Friday 2nd November
Benedetti Elschenbroich Grynyuk Trio, Saturday 3rd November
Kristin Berardi and Sam Anning, Saturday 3rd November
Bach & Barber, Monday 5th November
The Trout with Rare Sugar, Monday 5th November
Lying Still: Reimagined, Wednesday 7th November
Mendelssohn, Thursday 8th November
The Art of Oud, Friday 9th November
Urban Songs, Saturday 10th November
Brahms, Hindson and Bartok, Monday 12th November
Symphonic Mozart, Tuesday 13th November
La Malinconia, Tuesday 13th November
Antique Epigraphes, Wednesday 14th November
Big Bread, Big Boots, Thursday 15th November
Remarkable Russians, Thursday 15th November
Russian Caravan, Saturday 17th November
Kyla Matsuura-Miller & Adam McMillan – In Bloom, Monday 19th November
Leon Vynehall (Live), Monday 19th November
Benedetti Elschenbroich Grynyuk Trio, Tuesday 20th November
Salonpop, Tuesday 20th November
A Sephardic Soiree, Thursday 22nd November
Soliloquy, Thursday 22nd November
Musical Politics in the French Court, Friday 23rd November
The North Atlantic, Monday 26th November
Nostalgia, Wednesday 28th November
Dances, Dreams and prayers, Wednesday 28th November
Liszt's Italian Pilgrimage, Thursday 29th November
Postcards From Eastern Europe, Friday 30th November
Don't see a performance listed?
Call our Box Office team on 03 9699 3333 during business hours, or email us here